Work With Me
Transform Your Health and Wellbeing: Sign up for Personalised Health Coaching Today
Hi, I'm Emily, a qualified health coach and I am passionate about helping individuals like you to achieve their health and wellness goals.  If you any of these obstacles that are preventing you from living your healthiest life, I'd love to work with you…
1. Stress and Anxiety
2. Poor Sleep
3. Excess Weight
With my personalised guidance, support, and accountability, I can help you make sustainable lifestyle changes that lead to improved health and wellbeing. Together, we can create a customized plan that addresses your unique needs and challenges, and work towards a healthier, happier life. Don't let stress, poor sleep, or unhealthy habits hold you back any longer – contact me today and start your wellness journey now!
Book your free 30 minute discovery call today to get clarity about what you would like to achieve and get a sense of what it's like working with me to decide if it's the right fit.
What is Coaching?
Put simply, Coaching  helps you fast track your goals by helping you to overcome  obstacles and empower you with proven strategies for success. It is not Therapy, which focusses on past or present trauma. Coaching is a pro-active method where together we will draw on your strengths, to craft practical steps that you'll take towards your desired outcome.
Holistic Coaching for Managing Stress & Anxiety
As your health coach, I can provide personalised support and guidance to help you overcome stress and anxiety using holistic strategies.
We'll start by assessing your unique needs and developing a customised plan that includes mindfulness techniques, exercise, nutrition, and other holistic approaches tailored to your lifestyle and goals.
I'll work with you to identify the root causes of your stress and anxiety and provide practical tools and techniques to help you manage them. We'll also track your progress and adjust your plan as needed to ensure ongoing success.
With my guidance and support, you'll be empowered to take control of your mental and physical health and achieve a greater sense of overall well-being.
Testimonial from Kelly, Australia
"I began coaching with Emily 2 months ago. I was at a point in life where I was really struggling to get through general day to day activities without feeling deeply depressed and anxious. I cannot even describe how much Emily's coaching has changed my life. We do three weekly sessions ranging from meditation, breath work, counselling, yoga, journaling and self care. Each individual session has  helped me in so many ways. I really enjoy the change in the techniques and tools she teaches me, I carry these tools into my day to day life. Everything that Emily explains is so simple and effective, I used to feel overwhelmed by meditating, yoga and journaling and now they're my favourite things to do. I feel so much more calm in my life now and feel that I have the right techniques to tackle any challenges that come my way. I have tried therapy in the past and I thought that was helping but honestly nothing has helped more than Emily's coaching. I couldn't recommend it more, I genuinely look forward to every session." 
Sleep Coaching for Longevity
Did you know that getting enough sleep is the most beneficial thing you can do for your health?
As your coach, I can help you overcome sleep issues through a holistic approach that addresses both the physical and mental aspects of sleep. We'll start by assessing your sleep patterns and identifying any underlying factors that may be impacting your sleep, such as stress, anxiety, or poor nutrition. I'll provide personalised recommendations for improving your sleep hygiene, such as establishing a consistent sleep schedule, creating a relaxing bedtime routine, and making changes to your sleep environment. We'll also explore techniques such as meditation and relaxation exercises to help you calm your mind and promote better sleep.
With my support and guidance, you'll learn how to prioritise sleep and develop habits that support a restful night's sleep.
Testimonial from Michelle, USA
"I had struggled with sleep issues for years and had tried everything, but nothing seemed to work. That's when I decided to work with Emily as my health coach, and it was the best decision I ever made. Since implementing Emily's holistic sleep strategies, I now sleep soundly through the night and wake up feeling refreshed and energised. I can't thank her enough for helping me overcome my sleep issues and improve my overall quality of life. I feel happy to have found you and your beautiful attitude to helping people. I just want you to know how meaningful our time together is to me, and how much I look forward to every session with you!I l have learned a lot about myself, and how to navigate tricky emotions using the tools that you teach. So you are so aware, you have truly become my long distance guide,teacher and mentor!"
Achieve Your Ultimate Fitness & Weightloss Goals with Personalised Coaching
Let's work together to achieve your fitness and weight loss goals. By gaining a deep understanding of your needs, I'll provide personalized guidance and unwavering support every step of the way.
We'll start by assessing your current fitness level and identifying any factors that may be impacting your ability to lose weight or get in shape, such as poor nutrition, lack of physical activity, or other health issues.
I'll provide practical tools and strategies to help you improve your nutrition and establish an exercise routine that works for your lifestyle and goals. We'll also work together to set realistic goals and track your progress, making adjustments to your plan as needed to ensure continued success.
With my support and guidance, you'll develop habits that support long-term health and wellness, helping you achieve the fitness and weight loss results you desire.
Testimonial from Lauren, Australia
"My lifelong struggle with fitness and weight issues has been a continuous battle that has caused me a great deal of frustration and disappointment. Despite numerous attempts to achieve my goals, I found myself struggling to make lasting progress and achieve sustainable results. Finally, I realised I needed personalised help rather than trying another fad. That's when I decided to work with Emily as my health coach. Emily listened attentively to my concerns and developed a holistic approach to address my fitness and weight issues. She focused on helping me understand the root causes of my struggles, including my nutrition, lifestyle, and mindset. Emily worked alongside me to co-create a manageable plan that included practical tools and strategies to improve my nutrition, establish an exercise routine that worked for my lifestyle, and develop a positive mindset. With her guidance and support, I was able to overcome my fitness and weight issues, lose weight, and maintain a healthy lifestyle that supports my long-term wellness. Emily's holistic approach and personalized guidance made all the difference, and I highly recommend her services to anyone looking to transform their health and well-being."
About Emily
Emily is a holistic Mind-Body Coach who empowers her clients to live a life of peace and purpose. Her journey towards becoming a coach began as a child when she battled with food intolerances, which caused her to suffer from anxiety, headaches, and hallucinations. These early health challenges sparked a deep interest in the connection between the mind and body, leading Emily to explore various healing modalities over the years.
After years of yo-yo dieting and following fads, Emily discovered the power of intuitive eating, which transformed her relationship with food and her body. This experience, combined with her passion for holistic wellness, inspired her to become a coach and help others on their own path to health and happiness.
With over a decade of experience working with clients globally, Emily has successfully facilitated positive change for thousands of people, particularly in the areas of stress, anxiety, and sleep. Those working with her benefit from her vast knowledge of mindfulness, yoga, nutrition, and emotional wellbeing. Emily takes a personalized and holistic approach, working with clients to understand their unique needs and develop a tailored plan for achieving their goals. Her compassionate and supportive coaching style has earned her rave reviews from clients who have experienced transformative results under her guidance.
Featured On
RELAX YOUR BODY & MIND NOW FREE MEDITATION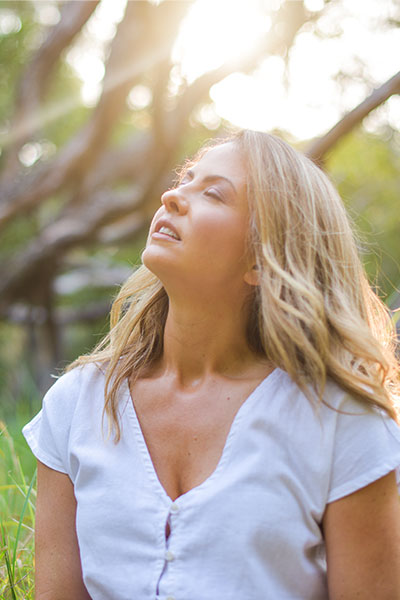 This free 10min meditation will bring you into a deep state of peace by calming your body and mind. Use it for a quick everyday reset, to get to sleep or to overcome feelings of anxiety & overwhelm.